On 8th August, in Hanoi, Vietnam Report J.S.C (VNR) held a ceremony to honor 10 most prestigious listed companies in 2019. PetroVietnam Transportation Corporation (PVTrans) is honored to be one of 10 mid-cap listed companies and the unique subsidiary of PVN getting this reward.
This is VNR's independent research result based on scientific and objective principles. According to VNR, the listed companies' reputation is valued by researches on the impact of finance, communication and evaluation of financial and securities experts.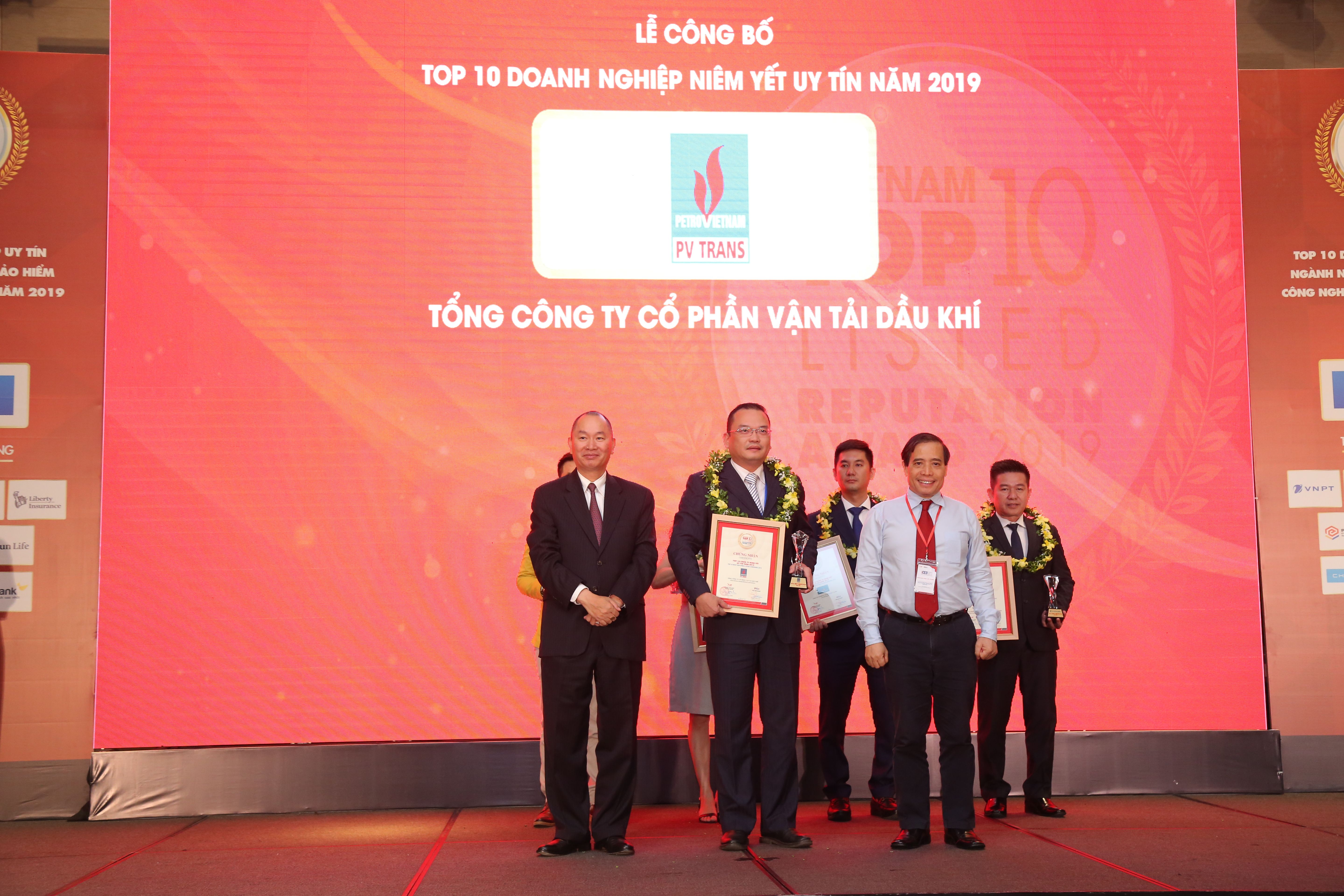 Specific evaluation factors comprise: (1) Financial ability through the last financial statements (total assets, total revenue, profit after tax, efficiency of capital utilization, growth of revenue and profit,...); (2) Prestige through communication is evaluated by Media Coding method - encoding articles about company on the media channels which influence on 24 specific operational aspects of companies from business performance, products/services, markets, ... to CEO's activities and reputation (3) Survey of experts on evaluation of typical stocks attracting investment; Survey on enterprises in June 2019 about activities and investment plans in 2019…
Top 10 reputable listed companies in 2019 - Blue chip group, include: Vinamilk, Vietcombank, Vingroup, FPT J.S.C, Mobile World Investment Corporation,  VietJet Air, Hoa Phat Group, DHG Pharmaceutical J.S.C, Sabeco, MBBank. 
Top 10 reputable listed companies in 2019 - Mid-cap stocks, include: Hoa Binh Construction Group, Dat Xanh Group, Tien phong Plastic J.S.C, TPBank, Vinh Hoan J.S.C, Cadivi, Khang Dien Trading and Investment J.S.C, PetroVietnam Transportation Corporation, Hochiminh City Securities J.S.C, Phat Dat Real Estate Development J.S.C.
Over 17 years, with the relentless efforts of employees and supports from PVN, important customers and partners, PVTrans has become the leading liquid transportation enterprise in Vietnam with high reputation in both domestic and international markets.
Since 2011, PVTrans has overcome the crisis to create outstanding and sustainable growth. Currently, PVTrans has 9 subsidiaries, 2 branches and more than 1,700 employees. PVTrans has developed a fleet of 29 vessels with total deadweight of more than 805,000 DWT.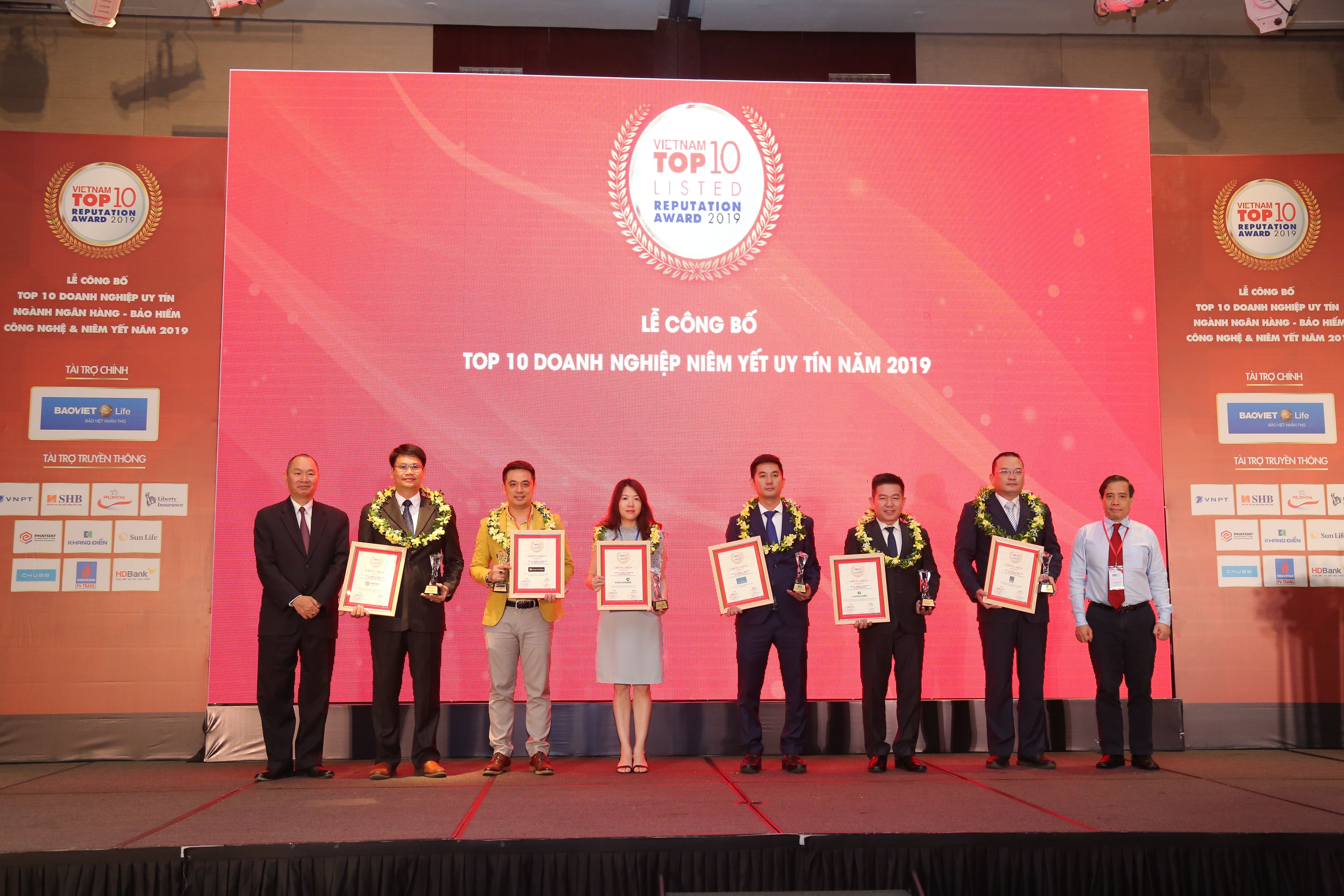 In recent years, despite many difficulties of market fluctuations, PVTrans is one of a few enterprises in PVN maintaining growth rate of revenue and profit. According to the financial statement in 6 months of the beginning of 2019, the consolidated revenue reached VND4,215 billion, increasing 58% of the plan; the profit before tax reached VND 531.3 billion, increasing 117% of the plan; Paying to the State budget reached VND 212.8 billion, increasing 94% of the plan. This is an impressive achievement exposing tireless efforts of PVTrans's leaders, employees in the difficult situations of oil and gas industry as well as the economy in general.
Being honored in Top 10 prestigious listed companies in 2019 affirms the value of PVTrans - the leading liquid transportation in Vietnam and right strategy of sustainable development. PVTrans continues to maintain and develop the reputable, qualified, efficient, transparent position both in the domestic and the world as well as benefit the investors.